For general conversation about Cricket 24.
Hi Team Please add a feature Where Batsmen can ask for hat while facing spinner that would be a great touch some injury cut scene some unorthodox shot like real cricket 22 just a suggestion.
Team,
I wanted to express my sincere appreciation for the recent announcement of a discussion forum. It's truly commendable to see your commitment to involving the community and fans in the game development process.
I would like to take this opportunity to share some ideas and suggestions based on my experience with previous cricket games such as DBC14, Ashes 17, Big Bash Boom, DBC17, Cricket 19 & 22. These suggestions aim to enhance the gameplay and overall user experience, if by any chance you guys consider them:
Realistic Player Movements: Focus on capturing realistic player movements and animations, making the gameplay feel more authentic and immersive. Atleast some signature moves for some special players, like Babar, Virat, Smith signature shots and this particular perks should be available for them only, no other batsman can copy or apply this style.

Comprehensive Career Mode: Create a comprehensive and engaging career mode that allows players to rise through the ranks, experience the ups and downs of professional cricket, and make impactful decisions on and off the field.(Hope C24 will make sure to experience this)

Enhanced Graphics and Visuals: Invest in improved graphics and visuals to create stunning stadiums, lifelike player models, and realistic weather conditions, making each match feel like a true spectacle. I know you guys have evolved much but it's time to level up, make something remarkable.

Dynamic Commentary: Implement a dynamic commentary system that offers insightful and varied commentary, adapting to the current match situation, player form, and ongoing events. And involve some AI thing in that which can be updated on daily basis from background (Only if it is possible)

Expanded Licensing: Secure licensing rights for additional leagues and teams, such as the T20 leagues from around the world, to provide a wider variety of playing options and cater to the diverse cricketing fanbase. C24 would surely have some new sensation but I would recommend to follow this for every known country where leagues are common and bursting like cracker in every few months.

Customization Options: Include extensive customization options for players, teams, stadiums, and tournaments, allowing users to personalize their cricketing experience to their liking along with "How to Guide". Note- Remove every option of tweaking/Editing all licensed players, every single thing. Even no custom player can be added into a licensed team. All players should earn auto refinement in their perks or skills on the basis of performance.

Online Multiplayer Modes: Incorporate robust online multiplayer modes, including both competitive and cooperative gameplay, enabling players to compete against friends and cricket enthusiasts from all over the world. Make sure to setup best server for players who are suffering from extremely higher pings.
I hope these suggestions resonate with you and contribute to the development of an exceptional cricket game in Cricket 24. Thank you once again for your dedication to involving the community, and I look forward to witnessing the progress of this exciting project.
Best regards,
CP
**Certainly! Based on conversations and discussions on twitter with some people around the world, here are some additional ideas and suggestions for the Cricket 24:
Innovative Batting Controls: Introduce innovative batting controls that offer a range of shot options, including the ability to play unconventional and improvised shots, adding depth and creativity to the gameplay.

Dynamic Weather Conditions: Implement dynamic weather conditions that affect gameplay, such as rain interruptions, overcast skies impacting swing and seam movement, and changing pitch conditions throughout a match.

Authentic Player Behavior: Focus on replicating the unique playing styles, techniques, and characteristics of real-life players, making each player feel distinct and true to their real-world counterparts.

Strategic Fielding Options: Provide players with more strategic fielding options, including the ability to set customized fielding positions, adjust fielding tactics based on the batsman's style, and execute innovative fielding maneuvers.

Realistic Umpire Decisions: Enhance the accuracy and realism of umpire decisions, taking into account factors such as player appeals, DRS challenges, and the umpire's positioning to ensure fair and realistic outcomes.

Immersive Stadium Atmosphere: Create an immersive stadium atmosphere with dynamic crowd reactions, commentary that reflects the match situation, and authentic sounds of bat hitting ball and fielding actions.

Player Development and Progression: Introduce a comprehensive player development system that allows players to improve their skills, unlock new abilities, and progress through a realistic skill tree, enhancing the longevity and depth of the gameplay.

In-depth Match Statistics: Provide detailed match statistics, including player and team performance metrics, allowing players to analyze their progress and compare their achievements with other players.

Historical Matches and Scenarios: Incorporate iconic historical matches and scenarios, allowing players to relive and rewrite cricketing history while experiencing the pressure and challenges faced by legendary players.

Continuous Updates and Support: Commit to regular updates, patches, and support post-launch to address any bugs, improve gameplay balance, and incorporate community feedback, ensuring an evolving and engaging experience.
These suggestions aim to create an immersive, authentic, and enjoyable cricketing experience in Cricket 24.**

Thanks @JNT_BA
Great stuff, was looking forward for an official forum.
Hope you guys can keep us updated with all the developments regarding the game here!
A long time request from me - make the player creator a bit more user friendly especially the play face creation stuff. If you look at how 2k has incorporated the upload photo stuff into their WWE games, it's a much easier way than what we had in previous cricket titles.
Cheers!
Some more quicker -
Advanced Bowling Mechanics: Introduce advanced bowling mechanics that involve more control over line, length, and variations, providing players with the ability to execute different types of deliveries with precision and strategy. Just add option of selecting Arcade/Standard/Pro control selection option too in online mode of the game, few lads are making it a mobile game with Arcade control (Specially in bowling)
Dynamic Fielding Challenges: Introduce dynamic fielding challenges, such as diving catches looks real and authentic, relay throws looks true, and acrobatic stops, to enhance the fielding experience and add excitement to the gameplay.
Realistic Player Fatigue: Implement a realistic player
fatigue system, where player performance is affected by physical and mental fatigue levels with all information visible in menu or screen and how it can be "improved" suggestions, requiring strategic team management and rotation of players to maintain optimum performance.
Real-Time Player Injuries in Cricket 24
It would be super good if you guys can introduce Real-Time Player Injuries in Cricket 24! If players can encounter injuries during matches, just like in real-life cricket. Whether it's a twisted ankle, muscle strain, or a concussion, injuries should impact gameplay and strategy.

Players' fitness levels and injury history would play a crucial role in their performance on the field. Manage team wisely, ensuring adequate rest and recovery for injured players. Make strategic substitutions and adjust tactics accordingly to overcome the challenges posed by these injuries.
Cricket 24 should raises the bar by delivering an authentic cricketing experience where injuries can influence match outcomes.
Imaginary but looks great-
Introduction of AI-Powered Suggestions in Cricket 24! Where, both the bowling and batting teams can receive in-game suggestions based on the player's strengths and weaknesses.
For the bowling team, the AI facility provides valuable insights on how to strategize and dismiss batsmen effectively. It analyzes the batsman's playing style, preferred shots, and weaknesses to offer suggestions on the right bowling variations, field placements, and bowling strategies to apply.
On the other hand, the batting team benefits from AI-driven suggestions to make runs against specific bowlers. The AI facility assesses the bowler's strengths, preferred deliveries, and areas of vulnerability, helping the batsmen with shot selection, footwork adjustments, and scoring opportunities to maximize their run-scoring potential.
These AI suggestions provide players with valuable guidance and enhance the strategic aspect of the game. However, the ultimate decision lies with the player, who can choose to follow or deviate from the AI suggestions based on their own instincts and gameplay preferences.
By this Cricket 24 will revolutionize the gaming experience by incorporating AI-powered suggestions that cater to each player's unique strengths and playing style.
#Cricket24
ITS VERY GOOD THAT Big Ant ARE VERY SERIOUS ABOUT THEIR UPCOMING TITLES.
°WE WANT THAT THE PITCH SHOULD CHANGE FROM DAY 1 TO DAY 5 AND THEIR SHOULD BE SOME CRACKS ON THE PITCH WHICH WILL CREATE MORE DIFFICULT PLAY FOR A BATSMAN.
• SHOULD FAVE REALISTIC PHOTOGRAPHY OF ALL TEAMS NOT ONLY WORK ON SOME TEAMS LIKE WE SEE IN CRICKET 19 AND 22 OF NZ AND SOME WI PLAYERS WERE NOT LOOKING GOOD.
• WE WANT REAL UI OF TOURNAMENTS LIKE THEY ARE IN ACTUALLY IN TVS NOT ONLY A SCREEN WERE WE SELECT ALL TIME OUR MATCHES
• YOU SHOULD HAVE CUSTOMISED SCOREBOARD HUD SO THAT EACH TIME A PLAYER CAN CHANGE IT LIKE IN REAL LIFE
• FIELDING SHOULD BE FAST NOT SLOW LIKE FIELDER IN 2X SLOW APPROACHES TO GET THE BALL.
• IN T20 CRICKET LIKE LEAGUE THE ENVIRONMENT SHOULD BE LIKE T20 CROWD SHOUTING EVERY TIME A NEW SONGS PLAY IF ITS A SIX FOUR OR OUT
• YOU SHOULD ADD MORE CRACKERS WHEN BALL GOES TO SIX OR FOUR NOT THREE STANDS AND THAT SHOULD BLOW FIRE THAT SHOULD BE IN WHOLE STADIUM .
THERE ARE MANY THINGS WHICH WHEN I KNOW WILL BE REPLYING FOR MORE FOR NOW I WANT THIS IN CRICKET 24.
THANKS
Some quick Suggestions for better and realistic Cricket experience (hope it's already been look into but if not, here it is):
• For Test Matches, have the detailed stats/summary for each Session, and needs more graphics/analysis of players/pitch/weather during the gameplay.
• Also please make the Hud bigger and has to have changes in it throughout the game. Especially for test matches, it should often show what time it is, which session, etc.
• If we were to have different hud choices such as Retro Style, or Classic/modern (recreate Sky Sports or other real hud), or even custom ones that users can create, that would be BRILLIANT!
Any other suggestions please feel free to add on. Thank you!

Introduction of Iconic Cricket Merchandise in Cricket 24! You may offer the opportunity to enhance gaming experience by allowing to purchase a range of iconic cricket materials right within the game.
Allow to browse through an exclusive collection of bats, balls, and special jerseys, inspired by cricket legends and iconic moments. Whether we all want to wield the same bat as our favorite player or sport a jersey that represents a historic match, these in-game purchases should allow us to customize our gameplay and showcase our cricketing style.
By offering these items through microtransactions, we ensure that your dedicated team receives credit for the creation of these authentic and meticulously crafted pieces. Our support through these purchases directly contributes to the continuous development and improvement of Cricket 24.
Add this in Disclaimer : Please note that the academy creation feature is not associated with the in-game purchase options for iconic cricket material. It remains a separate aspect of the game, allowing players to create and customize their own academies.
Major ask -
Advanced Player Behavior AI: Enhance player behavior AI to replicate realistic on-field interactions, including verbal exchanges, sportsmanship, and player personalities, adding depth and authenticity to the gameplay.

Dynamic Crowd Reactions: Implement a dynamic crowd system where the crowd reacts realistically to match situations, cheering, jeering, and creating an electric atmosphere that adds to the overall ambiance of the game.
Few things which should be the part of this game, missing from DBC14-
Implementation of a dynamic player behavior system. This system would take into account the personality and playing style of individual players, allowing them to display varying levels of aggression and engage in playful teasing or banter with opponents.

The aggression levels could affect a player's on-field behavior, such as their approach to batting, bowling, or fielding. Aggressive players might take more risks, play more attacking shots, or bowl with greater intensity and pace. This would add an extra layer of realism and excitement to the game, as players with different temperaments would showcase their unique playing styles.
Additionally, the teasing aspect could be incorporated through in-game dialogue or animations, where players engage in light-hearted banter, celebrations, or mock gestures towards opponents. This would simulate the competitive spirit and camaraderie often witnessed in real-life cricket matches, enhancing the immersion and entertainment value of the game.
It's important to note that any implementation related to aggression and teasing should be done in a responsible and respectful manner, ensuring that it aligns with the spirit of the sport and does not cross any ethical boundaries.

Add player and team rankings.
keep track of real time statics and records. And when player break a record in the game add to statics.
show the list of records broke after completion of the match.
More batting styles.
Dynamic weather conditions based on country plying and month.
I know there were issues with Afl23 but I was really impressed with the look and graphics / lighting of the game as compared to Cricket 22.
Some issues that continued from c22 to AFL and hopefully would be corrected by the time c24 comes out:
1) Collision detector : Players walking through each other.
2) Ball physics: Since the ball is the most important aspect of Cricket, we shouldn't be seeing outside edges on forwards defence flying to fine leg etc.
Hopeful of -
1) Proper foot movement. In C22, players instead of moving their foot, glides to the position like they are on a skating shoe. This breaks the immersion
2) Ability to hit the ball even if it's wide!! Currently if the ball is too wide of off and you try to play it, the game will switch your shot to a legside flick. Let us play and miss!
I have been an avid player of your cricket games for a long time and have thoroughly enjoyed the experience. I wanted to share one more suggestion regarding the difficulty settings in the game.
Instead of allowing traditional custom difficulty sliders, I propose introducing unique difficulty settings that are tied to specific aspects of the game, such as pitch conditions, venue types, or country-specific challenges.
For example, players could select a difficulty setting based on the type of pitch they are playing on, such as a turning pitch in India or a bouncy pitch in Australia. Each pitch type would come with its own challenges and intricacies, making the gameplay more dynamic and strategic.
Similarly, players could choose difficulty settings based on the venue type, like playing in a historic stadium with challenging conditions or a modern stadium with batting-friendly tracks. This would create a diverse range of playing environments, requiring players to adapt their strategies accordingly.
Another option could be country-specific difficulty settings, where players face unique challenges associated with playing against specific cricketing nations. For instance, facing spin bowling in subcontinent conditions or pace and swing in English conditions.
By implementing these unique difficulty settings, you would provide players with an opportunity to explore different cricketing scenarios and adapt their skills accordingly. It would add depth to the gameplay experience and encourage players to strategize and think critically about their approach.
I believe that incorporating these unique difficulty settings based on pitch, venue, and country types would enhance the overall gameplay and provide players with a more engaging and realistic cricketing experience.

Beautiful and Imaginary
One more suggestion I have is to introduce a range of player ornaments and accessories that players can use to personalize their in-game characters. These ornaments could include items like Stuart Broad's iconic headband, Jofra Archer's gold jewelry, bandanas, and even fun glasses like the ones worn by Rishabh Pant.
By incorporating these player-specific accessories, you would allow players to emulate their favorite cricketers and showcase their unique style on the virtual field. It would add a layer of authenticity and personality to the game, making it even more immersive for players.
Additionally, these ornaments could serve as rewards for in-game achievements or milestones, providing an extra incentive for players to strive for success and unlock special items. This would further enhance the overall gameplay experience and give players a sense of accomplishment when they acquire these coveted accessories.
I believe that introducing player ornaments and accessories would not only enhance the visual appeal of the game but also create a stronger connection between players and their virtual counterparts. It would add a touch of individuality and fun to the game, allowing players to express themselves in a unique way.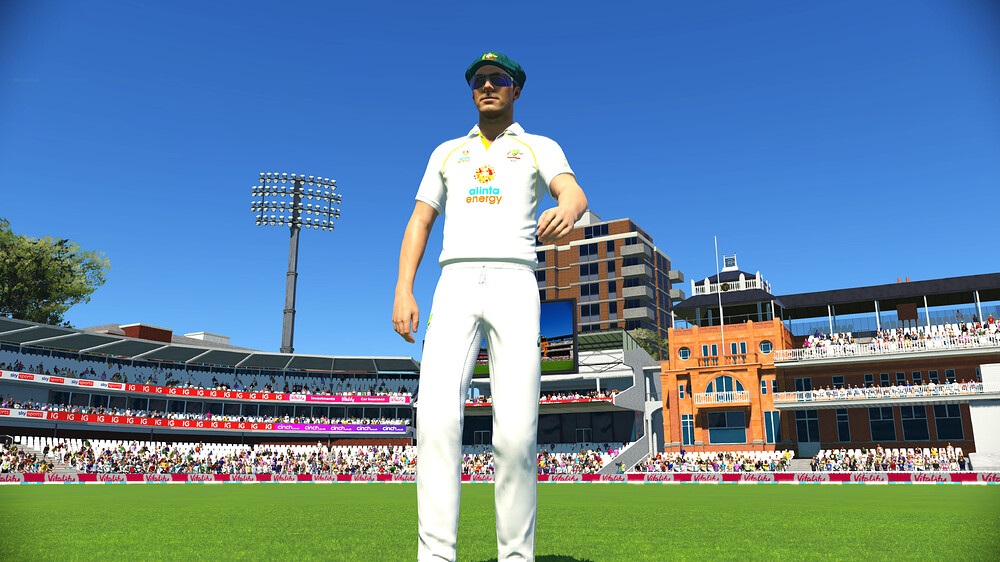 Would be cool if you add Injuries and sledging in this iteration
Would be cool if the career mode features at least 12 playable teams. And on PC it'd be good we can use the WASD keys to move the indicator into whatever position we like(similar to Ashes Cricket 2009) instead of holding the keys down as the shot selection feels very restricted. Also clashes in match schedule in Career mode must be prevented by asking the user to choose which games to play as it's very unrealistic to play a Shield game at same time as a series halfway around the world:)
Career mode: In Career Mode if we Become captain we should be Able to Select Players by our selves from Domestic Circuit For Any series or Tournament Like the other game back in the Time use to show stats recent form of players so that we can see if he's good enough to be selected or not that feature is Deal Breaker for me In Career mode along with Rankings
Stats and Ranking of All players and teams in Career Mode

Coach/Manager after retiring

Drats/Auction for All Leagues around the world

players getting dropped from the team because of Injuries and Poor form would be great

Better Shots While Coming down the Track specially against spinners straight down the Great better animation should be added for both Lofted and grounded shots
Hiii Big Ant,
Kindly add feature where announcers,commentators announce 100 runs 150 runs,200runs when any team reaches it…and public clap on that too…
Realistic incline and decline in AI players attributes and bowling pace gain and reduction in career mode
Please allow us batting stance creator and bowling action editor (where we can mix and match of part bowling actions of different bowlers like selecting and tweaking the run up speed , selecting the initial arm movement of action 1 add little pause and selecting the delivery release from action 2 while increasing or decreasing the bowling animations speed depending on the pace of the bowler)
Would be nice to have a better physique model to the players. Cricket 22 has very stick like features. Would love to see some physique upgrade or to match what was there in Cricket 17 The Ashes game.

Would like to see spin bowlers wearing coolers or glasses whole bowling under sun.

Would like to see batsmen asking for helmet or caps in the middle of the game.

Injuries during the game so the batsmen plays in the lower order

Slog sweeps going for sixes. Dancing down the wickets being more engaging.

Wicket keeper stumping more effective
Few more on the way…