Completely agree with this statement, also some massive news included.
Confirming over 130 countries and 15 leagues is huge.
Big Ant if you are reading this, thank you for updating us on the progress on the game. There really are some promising signs regarding the content of the game.
Cannot wait to play on the 30th Jan.
Totally agree! It's a bit annoying that it won't be out this year, but as long as we get the best Rugby game then I'm happy

Thank you for the update, absolutely the right decision if its not ready. So glad it isnt being rushed out in a unfinished state just to be released during the world cup. It sounds as though the official 6 nations licence will be included too so massive marketing opportunities will open up as its being released on the eve of the tournament. Heres hoping nacon can get some good marketing in place to hype up the game ready for the release.
The 15 leagues is very interesting. If I'm not mistaken only the top 14, pro d2 and URC were originally announced. Does this mean premiership, super rugby, mlr, japan top league are now all included?
Absolutely gutted that its been delayed for nearly 5 months but hopefully the delay is worth it.
Surely they could release some footage/screenshots though!
There was lots of confusing around the original announcement when they said 130 national teams. Like does that mean teams in competitions? international teams etc
They have phrased it better this time stating 130 countries, which is massive, and 15 leagues.
With only URC, Top 14, pro D2 and RWC originally announced which is 4. Here is what else I think they may get:
RWC

URC

Top 14

Pro D2

Six Nations (to line up with release)

Rugby Championship

Super Rugby

Premiership Rugby

MLR

JRLO

Champions Cup

Challenge Cup

Currie Cup

NZ NPC

Super Rugby Americas or RFU Championship
The 15 leagues part is very exciting, glad we finally have some information and role on the 30th January

Yeah if they are developing a player career then the minor leagues you have mentioned are very important elements of that to allow proper player progression. Fingers crosed

Disappointed with the news about the delay, big ant did a great job with RLL. But what I wanted to talk about was the screenshot of the Japan v Italy. Not necessarily worried with the graphics at this stage but more so the gameplay.
I really hope that the game play isn't based off studying past Union games because most games are based off how rugby was played in the late 2000s and early 2010s. Every team nowadays plays with their forwards in a 1-3-3-1 (left to right, 1 forward in the wide Chanel, a pod of 3 on either side of the post, and another forward in the other Chanel). Backs play as release balls out the back & I really hope they read this piece of info & can get this right. Also, players don't flood into rucks to win the ball back so I hope that they base the winning of rucks as dominant tackles & maybe a button to attack the ball for the defenders (but have a small window to get it right & if you don't you get penalised if you go for a jackal/pilfer when you're too late to it & use hands when the rucks formed already)
Screenshot??? Ive not seen a screenshot. Can you post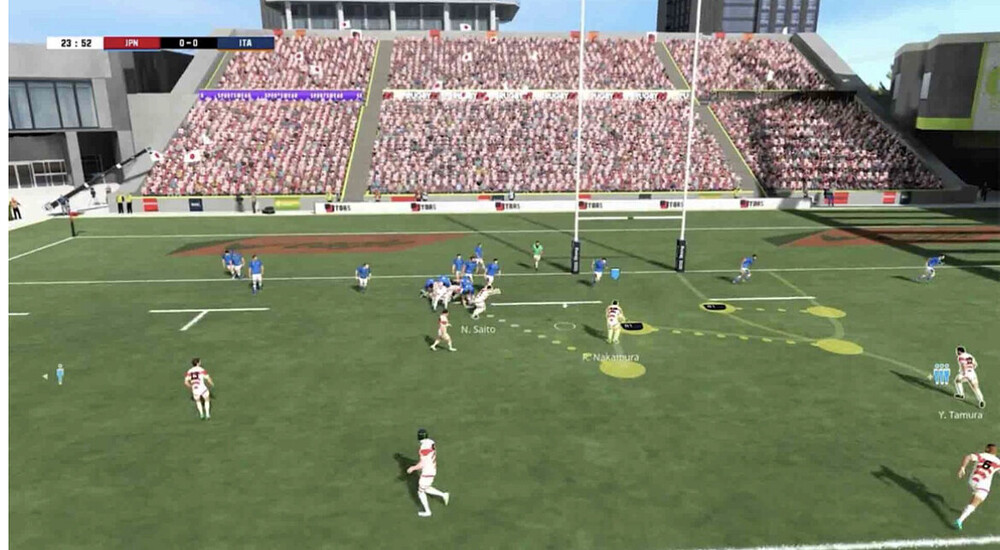 This was posted on god is a geek website
But the more I think of it now, is this from rugby 22? I never played it lol.
yeah thats rugby 22
don't scare us like that




I'm glad then. But my comments about the gameplay is still valid. I've just seen a lot of people wanting rugby 08 gameplay, maybe not so much on this forum but reddit + Instagram posts etc. But I want gameplay that matched footy from 2023 lol
If it's released before the 6 nations, it should coincide with the Netflix documentary they filmed during this year's tournament. Which will hopefully increase the playing audience for the game, due to more interest in rugby - which in turn will hopefully increase budget for the next iteration (appreciate I'm getting way ahead of myself). Could ultimately have a positive impact moving forward that it's been delayed.
Good that they've finally confirmed the inevitable but the complete lack of communication up till now has been shocking.
Hopefully we'll see more engagement with the community and marketing leading up to the games release on the 30th January and not more months of radio silence.
Have they confirmed yet that the game will have a community creation hub like their cricket games? Because all of the these licenses they have acquired will eventually expire.
Im 99% certain the game will have their creation hub, after all, it is theirs. But for the forseeable future it looks like it wont be needed if there are that many teams licenced.
I do have a sneaky feeling that its not 130 licenced teams though. Even the 15 leagues seems a bit dubious, might have the rights to the league itself but i highly doubt all the teams will be included too, if so thats a massive acquisition by nacon and big ant, theres no wonder its delayed if they needed face captures of even just the top 20 international teams, yet alone every player from all Uk, French and Souther Hemisphere competitions.
Surely getting the leagues licensed includes the teams. Can't think of a rugby game where this hasn't been the case
RC4 licensed Super Rugby but launched without Jaguars, Sunwolves and Waratahs.
Waratahs were lated added but the other two were never.
I'm guessing the leagues will be licensed with the real kits, team names, player names etc.
Only the top national teams and the bigger club sides will have face/body scans which makes sense. Doing 3D scans for national teams like Korea, Poland or the Japanese league etc. is unrealistic. Not even EA would be capable of it.